---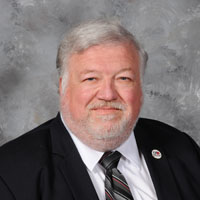 Louis D. Evans, III
Executive Director
Off-Campus Locations & Online Coordination
Distance Education
One Main Building, Suite 950S
Telephone: 713-221-2766
evansl@uhd.edu
---
Scope of Responsibilities
Louis Evans is responsible for providing planning, oversight and management for off-campus sites, off-campus programs and program support. He serves as Academic Affairs Liaison to Information Technology for matters related to technology utilized in delivery of instruction. He develops data on distance education to track growth and program needs. Mr. Evans supervises distance education long range planning and interacts with the University of Houston System on matters related to delivery of distance education. He oversees the UHD Distance Education website as well as coordinates with area community colleges on matters related to distance education. He also provides planning, oversight, management and program support for UHD operations at CyFair, Kingwood, Atascocita, UHD Northwest and UHD Online.
Educational Qualifications
Mr. Evans earned his Master of Science in Educational Administration from Sam Houston State University and Bachelor of Science in Interdisciplinary Studies from the University of Houston-Downtown. His certifications include: FMP - Food Management Professional and Lone Star College Online Teaching Certification.
Professional Experience
Mr. Evans professional experience includes more than 30 years of highly successful operations, training, teaching and advising experience. His expertise includes, but is not limited to, planning, training, assessment, online education, BANNER proficiency, report writing and program evaluation.