---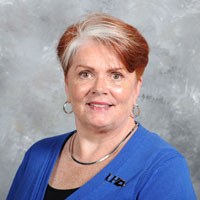 Katherine Knapp
Director, Career Development Center
Student Affairs
One Main Street, Suite S402
Telephone: 713-221-8980
knappk@uhd.edu
---
Scope of Responsibilities
At UHD, Ms. Knapp provides leadership and direction for a comprehensive, career planning facility with a mission to support the University's students in making informed decisions regarding undergraduate and postgraduate plans by providing resources and opportunities to encourage career exploration and self-assessment. She oversees related budgets, assessment, marketing, events, programs and services. In addition, Ms. Knapp develops relationships with business and community leaders, deans and department chairs in an effort to promote each department's series as well as the University as a source of employable job candidates.
Educational Qualifications
Ms. Knapp earned her Bachelor of Fine Arts from Southern Methodist University and Master of Education from the University of North Texas.
Professional Experience
Katherine Knapp has more than 30 years of higher education student affairs experience with experience in public and private urban four-year institutions and public rural and public urban two-year institutions. She has 25 years of experience serving in an administrator role, including work as Director of Student Activities, Associate Dean of Student Life and Dean of Students. Knapp also oversaw the Career and Employment Services director and department as dean.