---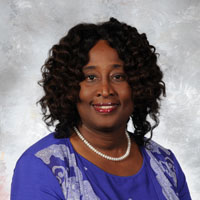 Jemma Sylvester-Caesar, Ph.D.
Director, Gator Success Center
Student Success
One Main Street, Suite N912H
Telephone: 713-221-2791
caesarj@uhd.edu
---
Scope of Responsibilities
Dr. Sylvester-Caesar is responsible for providing assessment of advising outcomes for students and for the effectiveness of the Advising Center. She incorporates effective team building strategies for advising staff and provides current and accurate advising information to them. She communicates and clarifies relevant advising policy and procedures and monitors developments in advising. Dr. Sylvester-Caesar identifies and implements trends and recognizes needs and puts into action professional development opportunities and training related to advising. She also develops data on advising and tracks growth and program needs.
Educational Qualifications
Dr. Sylvester-Caesar earned her Ph.D. in Leadership Studies from Our Lady of the Lake University, Master of Arts in Behavioral Sciences from the University of Houston-Clear Lake and Bachelor of Science in Psychology from the University of Houston.
Professional Experience
For over 22 years, 12 of which have been in successful supervisory positions, Dr. Sylvester-Caesar has gained a plethora of higher education experience in dealing with a diverse population of students. She has worked with faculty and staff in developing initiatives for all students. She also is a dependable and effective team leader who has introduced innovative technology, training and best advising practices for promoting student success and retention.