---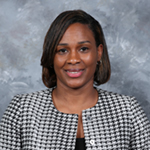 Chetiqua Matthews Herron
Director, Talent Acquisition & Management
Employee Relations Officer
Human Resources
One Main Building, Suite S910P
Telephone: 713-221-2715
matthewsherronc@uhd.edu
---
Scope of Responsibilities
In her role at UHD, Ms. Matthews Herron develops and directs all aspects of workforce planning, talent acquisition, management and development programs and initiatives, including recruitment, new hire on-boarding, performance management and staff training and development activities. She also conducts investigations into complex and sensitive employee relations issues and ensures compliance with all state and federal discrimination and employment regulations. Additionally, Ms. Matthews Heron oversees the foreign national employment and permanent labor certification process and administers unemployment insurance processes.
Educational Qualifications
Ms. Matthews Herron earned a Master of Science in Employment Law from Nova Southeastern University, a Master of Public Administration from University of Illinois at Springfield and a Bachelor of Public Management from Florida Atlantic University. She also holds a Society of Human Resources Certified Professional (SHRM) and Professional in Human Resources (PHR).
Professional Experience
Ms. Matthews Herron's experience in Human Resources has spanned in the public, higher ed and nonprofit sectors that include direct oversight in many areas of HR—Talent Acquisition, Talent Management and Development and Employee Relations.