---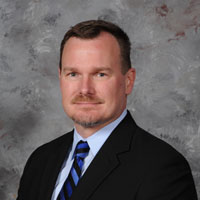 Charlie Finch, Jr., Ph.D.
Director, Strategic Initiatives & Projects
Student Success & Student Life
One Main Building, Suite S655
Telephone: 713-221-5091
finchc@uhd.edu
---
Scope of Responsibilities
Dr. Finch represents the division on administrative committees and councils in recruitment, retention, and student engagement efforts. He prepares communications, remarks, updates, reports, presentations, and meeting materials for the vice president. Dr. Finch supervises technology staff and part-time student and professional staff in the vice president's office. He also collaborates with institutional research and effectiveness in tracking progress on division and department strategic and assessment plans.
Educational Qualifications
Dr. Finch earned his Ph.D. in Clinical Community Psychology from the University of South Carolina, a Master of Science in Experimental Psychology from Old Dominion University, and a Bachelor of Arts in Psychology from Wake Forest University.
Professional Experience
Dr. Finch has served at the university for over 25 years, including as assistant dean of University College, and assistant professor and degree coordinator of the psychology program for the College of Humanities and Social Sciences.