---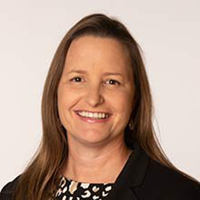 Ashley Blackburn, Ph.D.
Associate Dean
College of Public Service
Commerce Street Building, C340
Telephone: (713) 222-5326
blackburna@uhd.edu
---
Scope of Responsibilities
Dr. Blackburn works with the Dean and Assistant Dean to implement the vision of the College. Specifically, she focuses on strategic planning, assessment, faculty mentoring and support, student success, program advancement, and the development of new programs/initiatives. She also supports units within the College with recruitment, enrollment, and retention strategies. In addition, she promotes initiatives within the College and works to build and strengthen community partnerships.
Educational Qualifications
Dr. Blackburn earned a Ph.D. in Criminal Justice (2006), a Master of Arts in Criminology and Criminal Justice (2002) and a Bachelor of Arts in Criminal Justice (2000) from Sam Houston State University.
Professional Experience
Dr. Blackburn joined UHD as a Criminal Justice faculty member in 2011. She served as the Assistant Chair and Chair for the Department of Criminal Justice and Social Work before taking on the role of Associate Dean. Prior to UHD, Dr. Blackburn served as an Assistant Professor in the Department of Criminal Justice at the University of North Texas.