Fine Arts
Bachelor of Arts
Undergraduate (Bachelors)
On Campus (In-Person)
Downtown Location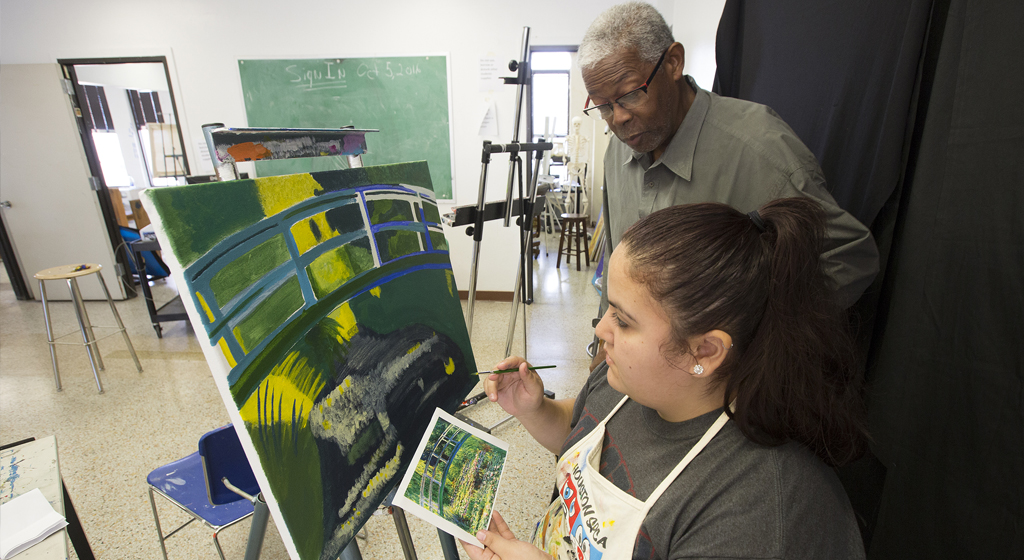 Bachelor of Arts in Fine Arts
The Bachelor of Arts in Fine Arts (BAFA) program helps students develop talents and cultural knowledge, preparing them for success in any fine arts institution.
Fine arts majors have an understanding of art and personal expression. In addition, students acquire strong skills in research, public speaking, and writing.
Degree Outcomes
Graduates who earn a BA in Fine Arts at UHD will be able to:
Describe in detail the historical and stylistic development of each of the fine arts;
Effectively analyze and communicate the significance of humanities and fine arts products and performances;
Express ideas through multiple media.
Degree Information
The following four year degree plan is based on the current UHD academic catalog. Students should meet with a UHD Academic Advisor to develop their own plan.
Careers
Students who graduate with a degree in Fine Arts will complete an internship that provides practical work experience and encourages professional networking. Additionally, students produce a portfolio of professional work to present to potential employers. Skills developed in this program will be useful in a variety of areas, such as:
Education
Museum curation
Administration
Commercial art, including graphic design, gaming, and advertising
Studio art and live performance
Art and music therapy
Media and photography
Art criticism
Fashion, interior, and stage design
Acting, directing, and technical theater
Music production and composition
Suggested Minors
Art - 18 Hours Minimum
Arts Administration - 18 Hours Minimum
Communication Studies - 18 Hours Minimum
Creative Writing - 18 Hours Minimum
One or more documents on this site are in PDF format. In order to view and print these document(s), you will need the Adobe Acrobat Reader software. It can be downloaded from the Adobe website.
Degree Coordinator
Azar Rejaie, Coordinator
S1009E
713-222-5300
rejaiea@uhd.edu