---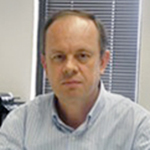 Vassilios Tzouanas, Ph.D.
Chair, Computer Science and Engineering Technology
College of Sciences & Technology
One Main Building, Suite N704
Telephone: (713)-226-5272
tzouanasv@uhd.edu
---
Scope of Responsibilities
At UHD, Dr. Tzouanas is responsible for the operation of the Department of Computer Science & Engineering Technology. Dr. Tzouanas' work includes overseeing all administrative operations of the department, including scheduling, curriculum development, programmatic advancement, supporting student success and access initiatives. He is also responsible for resolving student problems, oversight of the departmental budget and supporting, developing and evaluating faculty and staff.
Educational Qualifications
Dr. Tzouanas earned his Doctor in Philosophy in Chemical Engineering at Lehigh University, his Master of Chemical Engineering at the University of Alberta and Diploma in Chemical Engineering from Aristotle University.
Professional Experience
Dr. Tzouanas' professional experience includes work as an assistant department chairperson. In that role, he served on a number of University committees, including chair of UHD's Retention and Graduation Standing Committee (RGSC) and the ORCA Committee. He also represented the University at the Texas Higher Education Coordinating Board (THECB) Computer Science Field of Study (FOS) Advisory Committee. While Dr. Tzouanas teaches primarily upper-level courses, he is also involved in the research and publication of numerous works regarding chemical engineering.