---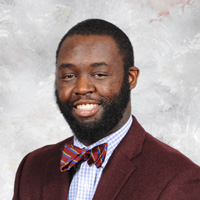 Tremaine Kwasikpui
Director
Student Activities
One Main Building, Suite S204
Telephone: 713-221-8573
kwasikpuit@uhd.edu
---
Scope of Responsibilities
Tremaine Kwasikpui manages the Student Activities Department, UHD Food Market, UHD ESPORTS Lounge and Student Lounges at UHD. He is also responsible for providing oversight and leadership to the Student Activities department which is inclusive of Greek Life. He supervises and mentors department professional and student staff members, as well as provides educational leadership for the creation of the student activities program calendar of events, which encompasses 75 student organizations at UHD. Annual Programming includes Welcome Week, Bayou Bash, One Main Event Gala and Student Organizational Leadership Development Conferences. Mr. Kwasikpui also serves as Advisor to the Student Government Association. In addition, Mr. Kwasikpui creates, designs, enhances and executes a strategic plan for the department to include cultivating long-term planning for student organization growth, staff development and leadership curriculum. He implements social, service and educational program that address the needs and interests of University students.
Educational Qualifications
Mr. Kwasikpui earned his Master of Entrepreneurship from Western Carolina University and Bachelor of Science in Business Administration from Elizabeth City State University.
Professional Experience
Mr. Kwasikpui has more than ten years of higher education experience, including work in the following areas: student activities, teaching, recruitment, first-year experience, student leadership development, mentoring, community outreach, project management, and event planning. Prior to UHD, he led major initiatives in minority male mentoring, implementation of a student café and ongoing retention and recruitment efforts.