---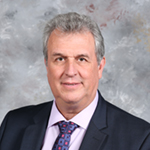 Timothy P. Rychlec
Assistant Vice President Facilities Management
Administration & Finance
One Main Street Building, S101
Telephone: (713) 221-5869
RychlecT@uhd.edu
---
Scope of Responsibilities
Mr. Rychlec is responsible for providing management, leadership and oversight of Facilities Management at UHD. His oversees property acquisition, facilities operations, facilities maintenance, utilities management, facilities inventory, contracted services and construction and capital project management.
Educational Qualifications
Mr. Rychlec earned his Bachelor of Science in Occupational Education from Wayland Baptist University. He is a 1st Grade Stationary Engineer and has NIMS and EPA certifications.
Professional Experience
Prior to UHD, Mr. Rychlec was the Executive Director of Facilities and Maintenance Services at Texas Southern University and oversaw Safety, Fleet Management, Maintenance, Construction, Energy Management, Land and Utilization, Parking, Landscaping & Housekeeping. He also worked as the Director of Maintenance at Houston Community College and managed all services, including landscaping, housekeeping, parking lot maintenance, job order contracting, pest control, light construction (<$10m) and maintenance. He has more than 20 years of higher-level facilities management experience.