---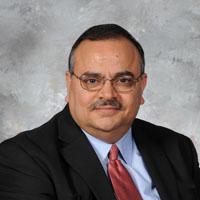 Said Fattouh
Executive Director & Deputy CIO
Information Technology
One Main Building, Suite S701
Telephone: 713-221-8059
fattouhs@uhd.edu
---
Scope of Responsibilities
At UHD, Mr. Fattouh is responsible for developing strategies and executing plans to administer, manage and direct all technology support services at the University and remote locations, including management of the Help Desk, software installations and troubleshooting and the implementation and support of university-wide enterprise systems. He administers student support services and the management of the academic computing labs. Mr. Fattouh works with other directors, managers, university officials and administrators on strategic IT planning initiatives and identifies current needs and future directions.
Educational Qualifications
Mr. Fattouh earned his Bachelor of Science in Business Computer Information Systems from the University of Houston-Downtown and Associate in Arts in Business Administration from San Jacinto College. His certifications include: Virtual TTX Series - Cyber Scenario (FEMA), Mac OS, Creating Friction Free Relationships: Tools for Working with Anyone, Software License Manager, Laptop and Remote Computing, Microsoft Access 2000, Highly Effective Criticism & Discipline Skills for Managers, The Law of the Internet in Texas, Macromedia Dreamweaver, Supporting, Troubleshooting & Optimizing Windows, Troubleshooting, Maintaining & Upgrading PCs, How to Deliver Exceptional Customer Service, Developing Web-based Course Materials, Novell NetWare 4.x Advanced Administration, Novell NetWare 4.x Administration, Novell NetWare 3.1x Administration, Managing Multiple Projects, Objectives and Deadlines, Customer Service Skills, Business Writing in the Workplace and VMS for Programmers.
Professional Experience
Said Fattouh has more than 26 years of extensive experience working in Information Technology at a higher education institution. During these years, Mr. Fattouh managed a large group of staff and had numerous opportunities to work with various levels of managers, administrators, end users (faculty, staff and students) and external users. He has also managed a large help desk operation; implemented and continue to manage the PC replacement project for the entire campus (over 4,000 workstations including computing labs and faculty & staff computers) on a regular basis and manages all computing labs campus wide.