---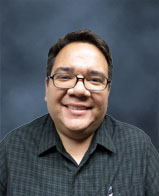 Robert Alonzo
Director
Testing Services
One Main Building, Suite S380
Telephone: 713-221-8977
alonzor@uhd.edu
---
Scope of Responsibilities
At UHD, Mr. Alonzo directs all phases of state, national and professional certification as well as University test programs. He works closely with other departments at UHD to create, implement and enforce in-house testing procedures and security controls. Mr. Alonzo also ensures compliance with institutional and state testing rules, regulations and procedures. In addition, he promotes testing services, manages the annual testing calendar, maintains security of test materials and confidentiality of tests and recommends new policies and procedures.
Educational Qualifications
Mr. Alonzo earned both his Bachelor of Science in Health Science and his Master of Public Administration from the University of Texas at El Paso.
Professional Experience
Robert Alonzo has nearly 15 years of experience in higher education. His experience includes work as administrative clerk at the University of Texas at El Paso (UTEP) Career Services Office and as a Testing Specialist, and then Testing Coordinator, at the school's Assessment and Testing Center.