---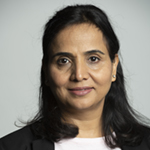 Rachna Sadana
Chair & Professor of Biology and Biochemistry
Department of Natural Sciences
College of Sciences and Technology
One Main Building, N813
Telephone: (713) 226-5562
sadanar@uhd.edu
---
Scope of Responsibilities
In her role at UHD, Dr. Sadana serves as Chair of the Department of Natural Sciences. She provides leadership and is responsible for the hiring, development and development of faculty and staff. Her responsibilities also include the student enrollment, retention and recruitment as well as support student success and address student needs. Dr. Sadana oversees curriculum/program revision and development and course scheduling, ensures policy/procedure compliance and manages departmental budget.
Educational Qualifications
Dr. Sadana earned a Ph.D., Master of Science and Bachelor of Science from Kurukshtera University. She also is a Certified Online Educator.
Professional Experience
For the past 12 years, Dr. Sadana has been a member of the UHD Faculty beginning as an adjunct faculty, an assistant and associate professorial positions. She also held Postdoctoral Fellowships at The University of Texas Health Center and the University of Houston.