---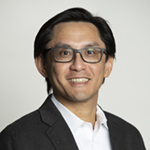 Paul Leung
Director
PeopleSoft Business Process and Services
Information Technology
One Main Buiding, Suite S825E
Telephone: (713) 221-5896
leungp@uhd.edu
---
Scope of Responsibilities
At UHD, Mr. Leung collaborates accounting and business offices to review financial and accounting business processes to develop new processes that will maximize system efficiency and customer service. He also reviews financial system configurations in PeopleSoft (PS) to ensure full compliance and provides guidance and support to all PS users. Additionally, he develops leadership and operations reports for PS student, financial and human resources' systems. Mr. Leung serves a project lead and subject matter expert for PeopleSoft related projects as well as oversees development of complex PS queries.
Educational Qualifications
Mr. Leung earned a Master of Business Administration in Management Information System and a Bachelor of Science in Electrical Engineering from The University of New Orleans.
Professional Experience
Mr. Leung has more than 20 years of Higher Education experience specializing in student financials/accounting and over 15 years of Oracle PeopleSoft. He also has 12 years as Campus Solutions consultant involved in all phases of its implementation life cycle, including conducting fit/gap sessions, leading configuration and setup, redefining new business processes, testing, training, troubleshooting and post-production support.