---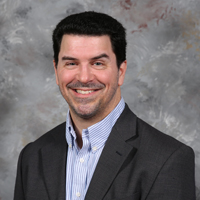 Paul Kintzele, Ph.D.
Associate Dean
College of Humanities & Social Sciences
One Main Street, S101SF
Telephone: (713) 221-8090
Kintzelep@uhd.edu
---
Scope of Responsibilities
Dr. Kintzele works with the college's advising team with student success, hears student appeals, and handles articulation and petition requests. He assists with curricular innovation and revisions. Dr. Kintzele assists the dean with implementing the vision for the college, assists department chairs with their official duties, supports inclusive hiring and retention strategies, and supports the college centers. He assists with unit planning requests, reviews study abroad proposals, and advises schedulers on enrollment management. He also develops digital promotional strategies.
Educational Qualifications
Dr. Kintzele earned his Ph.D. in English from the University of Pennsylvania, a Master of Arts in English from Tulane University, and a Bachelor of Arts in English and Philosophy from Florida State University.
Professional Experience
Dr. Kintzele served in the department of English at UHD for 17 years as assistant professor, associate professor, and department chair.