---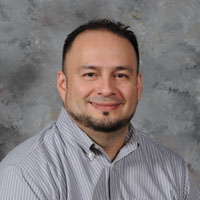 Miguel Ruiz
Director
IT Infrastructure & Communications Services
Information Technology
One Main Building, Suite S700A
Telephone: 713-221-8564
ruizm@uhd.edu
---
Scope of Responsibilities
At UHD, Mr. Ruiz is responsible for direct planning, design, implementation and support of the University's Data Center, network storage, network communications and video network infrastructure. He oversees the University's telephony system operations and support services. Mr. Ruiz oversees the departmental budget, the division's hardware inventory, computing, telecom and video network projects. He also oversees the direct staff responsible for IT's physical infrastructure environments and operations as well as all IT equipment upkeep and inventory.
Educational Qualifications
Mr. Ruiz earned his Bachelor of Science in Engineering Technology from the University of Houston-Downtown. His certifications include: Comptia A+, Comptia N+, Comptia Server+ and Comptia Cloud +.
Professional Experience
Miguel Ruiz has more than 22 years IT experience within a higher education environment. He has been in several positions ranging from field technician, telecommunications specialist, Manager of Operations to his current role as the Director of IT Infrastructure and Communications Services.