---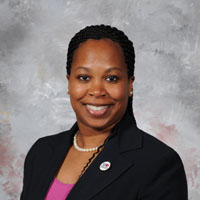 LaTasha Goudeau
Director, Financial Aid
Financial Aid
One Main Street, Suite S350
Telephone: 713-221-8162
goudeaul@uhd.edu
---
Scope of Responsibilities
LaTasha Goudeau is responsible for interpreting, analyzing and implementing regulatory changes for student aid programs. She calculates student financial aid award packages and completes federal student aid and state reporting. Ms. Goudeau supervises staff in the Financial Aid Office and evaluates individual competencies throughout the year, monitors the Financial Aid Office budget, including personnel needs and departmental operating expenses. She also develops and maintains the departmental policy and procedures manual. Ms. Goudeau serves on a variety of University committees and makes imperative decisions pertaining to staff and departmental needs and requirements.
Educational Qualifications
Ms. Goudeau earned both her Master of Science in Occupational Technology Training and Development and Bachelor of Science in Industrial Supervision from the University of Houston.
Professional Experience
Ms. Goudeau has 26 years of financial aid experience with the University of Houston System. As a full-time staff member, Ms. Goudeau has held the following positions: Financial Aid Counselor, Student Loan Coordinator, Assistant Director and presently Director. Each position has required an understanding of the financial aid process as well as the ability to interpret, analyze and implement federal and state regulations. She has management experience as Director of Financial Aid, beginning with a staff of 10, which has expanded to 24.