---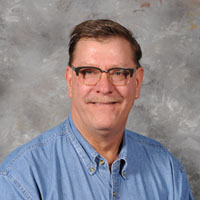 Kris S. Zimmerman
Director, Mechanical Electrical Plumbing
Facilities Management
One Main Street, Suite S101
Telephone: 713-221-5054
zimmermank@uhd.edu
---
Scope of Responsibilities
Kris Zimmerman is responsible for maintaining operations of the mechanical, electrical and plumbing infrastructure for the University of Houston-Downtown campus.
Educational Qualifications
Mr. Zimmerman earned his Master of Science in Instructional Design and Technology with emphasis in Human Performance Technology (Occupational Development) from the University of Houston-Clear Lake and Bachelor of Science in Technology Leadership and Supervision from the University of Houston. His licenses, certifications and accreditations include: Master Plumbing License, State of Texas; First Grade Stationary Engineer License, Houston, TX; Freon Universal Certificate, EPA; LEED Accredited Professional (O&M), USGBC.GBCI; and Certified Educational Facility Professional (C.E.F.P.), APPA.
Professional Experience
Mr. Zimmerman has more than 41 years of experience, including several years with the U.S. Navy, in operations, repair, maintenance, renovations and new construction supported by energy conservation strategy in residential, commercial and industrial marine environments combined. Of those 41 years, Mr. Zimmerman has 15 years of management experience leading, developing and supervising operations staff, implementing in-service contracts, construction agreement administration, construction specifications, operational policy, safety procedure, preventive and predictive maintenance applications, scheduling and vocational training.