---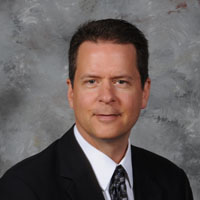 Jeffrey M. Jackson, Ph.D.
Chair
Department of History, Humanities, and Languages
One Main Street, Suite N1007
Telephone: 713-221-2793
jacksonjef@uhd.edu
---
Scope of Responsibilities
At UHD, Dr. Jackson is responsible for overseeing all administrative operations of the department, including scheduling, curriculum development, supporting faculty initiatives, supervision of staff, assisting students, oversight of departmental budget and evaluation of all faculty. Dr. Jackson also represents the department in administrative contexts and engages in a variety of activities that serve the mission of the University.
Educational Qualifications
Dr. Jackson earned his Doctor of Philosophy in Philosophy from Vanderbilt University, Master of Arts in Philosophy and Bachelor of Arts in Philosophy from Ohio University.
Professional Experience
Dr. Jackson's administrative experience includes work as the Chair of Social Sciences, Assistant Chair of Social Sciences and Coordinator of Philosophy at UHD. As a graduate student, Dr. Jackson worked in two administrative offices at Vanderbilt University as a Graduate Assistant: the Office of Intercultural Education and Diversity and International Student and Scholar Services.