---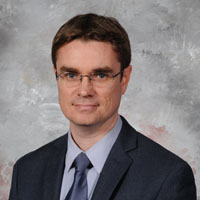 Gregory Dement, Ph.D.
Director
Center for Teaching and Learning Excellence
One Main Building, Suite ACAD 700A
Telephone: 713-221-8280
dementg@uhd.edu
---
Scope of Responsibilities
At UHD, Dr. Dement is responsible for leading efforts in faculty, instructional and organizational development. He directs faculty programs, organizes workshops, maintains faculty support services, participates in University-wide initiatives and committees and manages CTLE operations, including strategic planning, program assessment, marketing, budget management and personnel management. The mission of the Center for Teaching and Learning Excellence is to promote student success by providing targeted faculty support, promoting evidenced-based instructional strategies and cultivating an innovative and collaborative learning environment at UHD. The center's ongoing initiatives aim to achieve the student success objectives outlined in the UHD Strategic Plan and to support the University's continual growth and development as a vibrant teaching and learning institution.
Educational Qualifications
Dr. Dement earned his Doctor of Philosophy in Microbiology from Washington State University and completed his postdoctoral work at Baylor College of Medicine as a National Institutes of Health (NIH) Institutional Research and Academic Career Development (IRACDA) scholar focused on research and teaching. Dr. Dement earned his Bachelor of Science in Biology from Northwest Nazarene University. His certifications include: Quality Matters (QM): Applying the QM Rubric to Online Courses (APPQM).
Professional Experience
Dr. Dement has been serving students and faculty in a variety of capacities for over 18 years as a teaching assistant, postdoctoral teaching fellow, adjunct faculty, learning specialist and educational grant program director. His goal in these roles has been to improve student success. Dr. Dement has organized faculty communities to improve barrier courses, taught learning strategies, advised and mentored students and tutors, assessed programs, secured grant funding and managed budgets and personnel.