---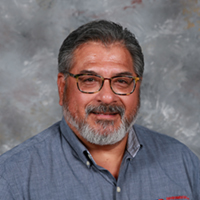 Edward Arias
Director, Environmental Health & Safety
Administration & Finance
One Main Building, Suite S621
Telephone: 713-221-5831
AriasE@uhd.edu
---
Scope of Responsibilities
Mr. Arias is responsible for assessing UHD community EHS compliance, implementing and coordination all EHS training, overseeing EHS inspections and evaluations, reviewing lab safety protocols and Chemical Hygiene Plans, and ensuring safe actions during emergency operations and evacuation processes. He also reviews hazardous waste and recycling and coordinates outside contractors' safety, life safety reviews, food sanitation and involvement of managers, directors, chairs and deans in safety awareness. In addition, Mr. Arias develops unit-based planning and budgeting of the safety process.
Educational Qualifications
Mr. Arias earned his Bachelor of Science from Southern Connecticut State University. He has the following accreditations and certifications: OSHA HAZMAT for Hazardous Materials Incident Response Operations Course (40 hours); OSHA HAZWOPER for Hazardous Waste Operations and Emergency Response Course (40 hours); OSHA General Industry Outreach Program Trainer (10 and 30 hours); NIMS Emergency Responder Training 100/200/300; Preparing for Certified Hazardous Materials Manager (CHMM) examination and certification; EPA Asbestos Inspector and Management Planner and EPA Lead Inspector and Lead Risk Assessor Course.
Professional Experience
With more than 30 years of experience, Mr. Arias has extensive knowledge in environmental health and safety (EHS) compliance with regulatory and industry codes pertinent in leading an EHS program. He's oversaw multiple programs leading to increased safety awareness and consciousness toward safer conditions by implementing compliance manuals and safety training programs. He has also conducted numerous EHS assessments, indoor air quality investigations, laboratory closure assessment, incident investigations, job hazard analysis, EHS training and emergency response procedures and ergonomic assessments.