---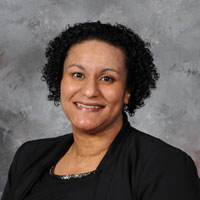 Crystal Guillory
Assistant Dean
College of Humanities and Social Sciences
One Main Building, Suite S1086
Telephone: 713-222-5316
guillorycry@uhd.edu
---
Scope of Responsibilities
At UHD, Ms. Guillory is responsible for supervising the College of Humanities and Social Sciences' Director of Advising Services and indirectly supervises the Director's staff. She advises and sets registration parameters for probation/suspension students. She develops and assists in implementing improved procedures and services to enhance student development, retention and success. Ms. Guillory also creates peer mentoring programs and workshops for student success and develops and coordinates diversity activities for College student affairs and alumni activities. She coordinates representation and represents the College at outreach and open house events as well as serve on several committees.
Educational Qualifications
Ms. Guillory earned her Master of Arts in African American Studies from Temple University and Bachelor of Science in Interdisciplinary Studies from the University of Houston-Downtown.
Professional Experience
Crystal Guillory started teaching and counseling high school students in Summer 2007 for two different Upward Bound programs that prepared potential first-generation college students for the demands of pursing a college degree. She then taught English courses at UHD from Fall 2010 to Fall 2013. During that time, Ms. Guillory volunteered to coordinate and host several programs for students. Working for Upward Bound and teaching college courses prepared Ms. Guillory to advise students and create meaningful student success programming. These positions also prepared her to serve in administration and to oversee staff.