---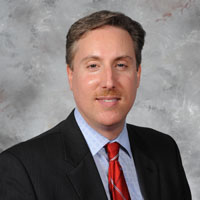 Brett D. Hobby
Director, Career Center
Marilyn Davies College of Business
One Main Street, Suite B104
Telephone: 713-221-5075
hobbyb@uhd.edu
---
Scope of Responsibilities
At UHD, Mr. Hobby is responsible for sourcing, hiring and supervising staff and establishing and running daily processes of a college career center. He provides overall guidance and supervision for the office and career counseling for students. Mr. Hobby also develops new employer relationships. He teaches a section of BA 3300 and creates and maintains content within the career module for the course. Mr. Hobby designs programming to enhance employment opportunities for business majors via recruiting events such as the Business Career Fair and career readiness events such as Gator Resume Dash and Mock Interview Days. He also conducts research and benchmarks best practices to ensure students have access to current resources and training.
Educational Qualifications
Mr. Hobby earned his Master of Education in Higher Education Student Services from Georgia Southern University and Bachelor of General Studies from Armstrong Atlantic State University. His trainings/certifications include UH SHRM Learning Systems Course, Spring 2013; UH Management Institute, Spring 2008; NACE Management Leadership Institute, Summer 2006; Training and Development Professional Certification Program, Texas A&M University, Spring 2003.
Professional Experience
Mr. Hobby has more than 22 years of higher education experience. Under his leadership at UHD, Mr. Hobby has introduced a large career component to the BA 3300 Business Cornerstone course curriculum as well as events such as the Business Internship Mixer, Business Career Fair, Gator Resume Dash, employer panels and site visits. Prior to UHD, he designed and launched many initiatives including an on-campus recruiting program in Spring 2010 as the Director of the Employer Services & Recruitment for the Rockwell Career Center at the UH Bauer College of Business. Serving for five year, Mr. Hobby is a past advisory board member for the Walt Disney World College Program. He is also a former board member and president of the Texas Cooperative Education & Internship Association (TxCEIA) and continues to serve as their webmaster. Mr. Hobby was also ambassador for the Greater Houston Partnership (GHP) and achieved lifetime membership status. Prior to working at universities in the University of Houston System, Mr. Hobby worked in the career centers at Texas A&M - College Station and Florida International University (FIU) in Miami.