---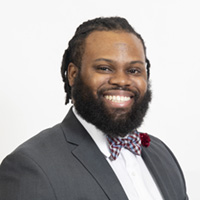 Branston G. Harris
Assistant Dean of Students
Student Affairs
One Main Street Building, S380
Telephone: (713) 221-8056
HarrisB@uhd.edu
---
Scope of Responsibilities
As Assistant Dean of Students, Mr. Harris is responsible for managing referrals related to students alleged of having violated the Student Rights and Responsibilities policy, students in distress, student crises, and student grievances. He oversees the student conduct process, adjudicates student conduct cases and facilitates student conduct hearings. In addition, Mr. Harris chairs the University's Behavioral Intervention Team (BIT), manages the Counseling and Health Services departments and facilitates Student Affairs involvement at freshman, transfer, international and graduate orientations.
Educational Qualifications
Mr. Harris earned his Master of Education in Administration & Supervision and Higher Education from the University of Houston and his Bachelor of Arts in Music from Texas State University. His certifications include NaBITA Advanced Violence Risk Assessment Facilitator, ATIXA Civil Rights Investigator Level 3 and Intercultural Develop Inventory – Qualified Administrator.
Professional Experience
Mr. Harris has nearly ten years of higher education experience that includes a myriad of student affairs positions throughout his career. He has leadership experience in the following areas: Student Conduct, Counseling & Health Services, Campus Living & Learning, Greek Life, Commuter & Transfer Student Services, Minority Male Student Success, Campus Programming Board, Retention Initiatives, Leadership Development, Accommodation Services BIT Team and First Year Experience.