---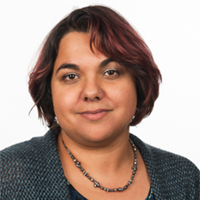 Azar Rejaie, Ph.D.
Chair, Arts & Communications
College of Humanities and Social Sciences
One Main Building, S1009E
Telephone: (713) 222-5300
rejaiea@uhd.edu
---
Scope of Responsibilities
In her role at UHD, Dr. Rejaie oversees and manages a department comprised of 52 tenured/tenure-tracklecturerand adjunct faculty members who support two degree plans that together serve more than 500 majors. She also coordinates and manages the Bachelor of Fine Arts degree program.
Educational Qualifications
Dr. Rejaie earned a Ph.D. at University of Pittsburghanda Master of Arts and Bachelor of Arts from Louisiana State University.
Professional Experience
Dr. Rejaie joined UHD in 2006 and has taught a variety of art history classes including surveys of art from prehistory to The Middle Ages and The Renaissance to the present, Intro to World art, and Asian art, in addition to special topic courses and her specialty of Italian Renaissance.