---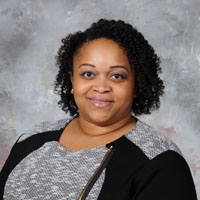 April Frank, MBA
Director, Payroll and Records
Human Resources
One Main Building, Suite 910S
Telephone: 713-221-8422
franka@uhd.edu
---
Scope of Responsibilities
At UHD, Ms. Frank is responsible for supervising the Payroll and Records staff. She handles the input of all employees' personnel and payroll information into PeopleSoft, calculates earnings for terminating vacation, data entry of contributions and withdrawals to the sick leave pool. Ms. Frank ensures that all employee documents are scanned and indexed into their personnel files accurately. She also supervises and schedules work activity of staff in the Payroll and Records area.
Educational Qualifications
Ms. Frank earned her Master of Science in Leadership from Grand Canyon University, Master of Business Administration from Texas Women's University and Bachelor of Arts from University of Houston-Downtown.
Professional Experience
Ms. Frank has 14 years of experience in Human Resources where she has served in the capacity of Assistant, Technician and Coordinator. In Ms. Frank's work experience, she has processed new employee paperwork, data entry into the Payroll System, maintained all employee records and prepared documents for shredding based on the state of Texas records laws.