---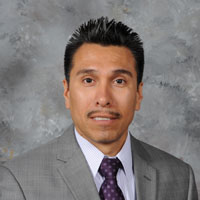 Abraham Flores
Director, Building Maintenance
Facilities Management
One Main Building, Suite S101R
Telephone: 713-221-8685
floresa@uhd.edu
---
Scope of Responsibilities
At UHD, Mr. Flores serves as the Director of Building Maintenance . Mr. Flores is responsible for managing and coordinating materials, equipment and labor required for building maintenance and renovation projects. In addition, he oversees necessary contract documents by coordinating bids, negotiating and implementing contracting methods required to support maintenance and renovation projects. He also develops and edits AutoCAD drawings and monitors budgets for the renovation projects.
Educational Qualifications
Mr. Flores earned both his Bachelor of Business Administration in Management and Bachelor of Engineering Technology in Structural Analysis and Design from the University of Houston-Downtown. His certifications include: Association of Physical Plant Administrators (APPA) Institute for Facilities Management, Texas Accessibility Standards, NFPA 101 Life Safety Code and Business Management Institute at the University of Houston.
Professional Experience
Abraham Flores has extensive experience in higher education, including 20 years at UHD in Facilities Management. His experience includes work as the Director of Maintenance and Renovations, Manager of Architectural Systems, Building Trade Scheduler and Contract Coordinator.