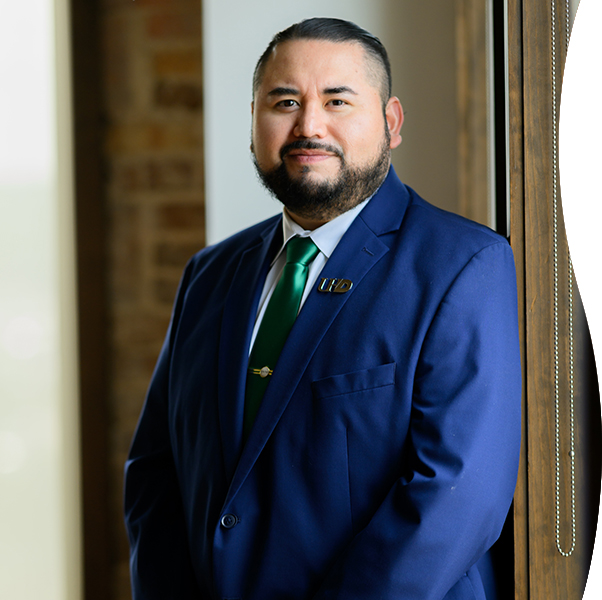 Ovidio Galvan
University Registrar
---
Registrar's Office
---
---
---
Ovi Galvan serves as the University Registrar for the University of Houston-Downtown.
As a first-generation student, Ovi knows how difficult and challenging navigating higher education can be. Ovi's goal is to work with his team, and colleagues across the University of Houston-Downtown, in ensuring that the UHD processes and functions are as approachable as possible to the prospective students and community patrons. In doing so, Galvan hopes to open the doors to more individuals who wish to get a higher educational credential, while also supporting the integrity of his office and our institution.
Ovi Galvan has served as Past President of the Texas Association of Chicanos in Higher Education, Gulf Coast Region, as well as recipient of the Civitas Learning Next Generation Higher Education Leadership Award.
As the University Registrar, Ovi Galvan serves as a member of the Enrollment Management leadership team and handles oversight the university's Registrar's Office supplying executive leadership for all functions including the student information system, registration, grading, degree and enrollment verification, academic records management, transcripts, compliance, application processing, and articulation, graduation auditing, and awarding of degrees.
Ovi Galvan has over 13 years of experience within higher education and has worked for many higher education institutions in our region. His roles have included programing for Student Activities, Core Academic Advising, Workforce Program Advising, TRiO Student Support Services, Dean of Student Services, and Associate Professor of Political Science.
Ovi is an avid collector of physical media - movies, records, tapes - and enjoys camping and fishing with his family.
Education
Bachelor of Arts in Political Science, Texas A&M University
Master of Liberal Arts in Political Science, University of Saint Thomas