Bachelor of Sciences in Biotechnology
Biotechnology
Bachelor of Science
Undergraduate (Bachelors)
On Campus (In-Person)
Downtown Location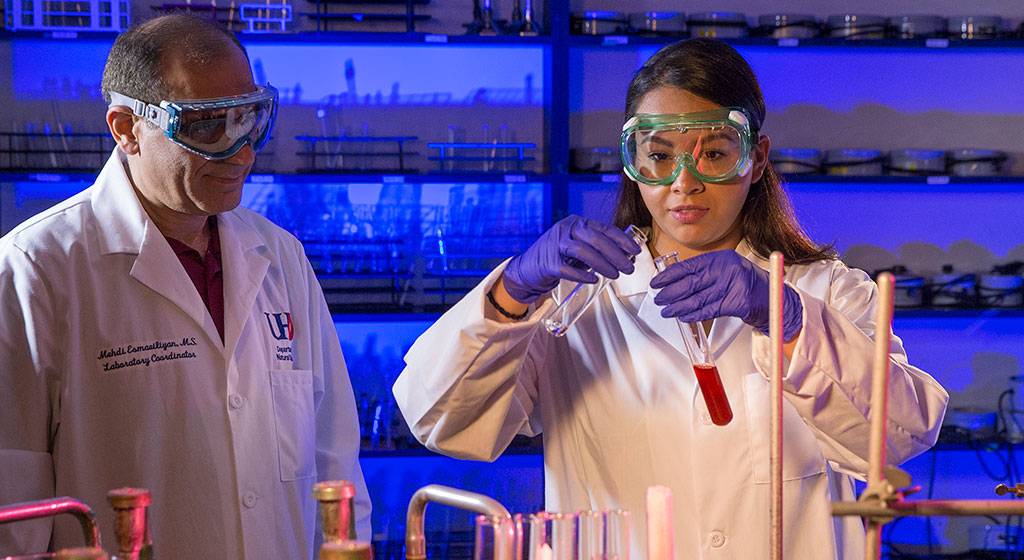 The Bachelor of Sciences in Biotechnology degree program at the University of Houston-Downtown provides a broad-based curriculum in the liberal arts, the Natural Sciences and a set of courses specifically directed toward the field of Biotechnology. This interdisciplinary program provides both entry-level job skills in biotechnology and a strong academic background needed to pursue a master's or doctorate degree in Biotechnology, Biochemistry, Microbiology or Molecular Biology. This program will also satisfy course requirements for all major pre-professional degree programs in medicine, dentistry, pharmacy, optometry and veterinary medicine.
Additionally, the biotechnology degree program will prepare students for rewarding careers through smaller classes, faculty mentoring, modern labs, hands-on experience, and flexible class options. Students are encouraged to participate in an appropriate field experience or research activity as part of their curriculum.
PROGRAM LEARNING OUTCOMES
Graduates who earn a BS in Biotechnology will be able to:
Demonstrate basic knowledge of the discipline (Basic Knowledge).

Demonstrate laboratory skills common to modern laboratories (Laboratory Skills).

Effectively communicate scientific information in writing and in oral presentations (Communication Skills).

Demonstrate the use of scientific reasoning to analyze and interpret data and implement project-based activities (Scientific Reasoning and Research).

Work as part of a team (Teamwork).

Demonstrate an understanding of the ethical standards for the responsible conduct of scientific research and its applications (Ethics).
DEGREE PLAN INFORMATION
The following four-year degree plan is based on the UHD 2021-2022 academic catalog. Students should meet with a UHD Academic Advisor to develop their own plan.
ADMISSIONS AND DECLARATION OF MAJOR
Students may be admitted to and declare a major in Biotechnology if they meet the following criteria:
Admission and Declaration of Major
Continuing students at UHD must have
Students transferring to UHD must have
Freshmen who meet the Freshman Admissions criteria to UHD and the following criteria will be declared upon admission
CAREERS
The biotechnology industry continues to blossom nationwide and there are many career options to choose from in the field. Graduates find lucrative jobs in manufacturing, quality control and assurance, sales and marketing and research and development. Depending on the area of interest students study within their degree, career options include:
Biotechnology Lab Technician
Biotechnology Research Associate
Chemical/Biomedical Engineer
Associate Research Scientist
Quality Control Engineer
Quality Control Analyst
Crime Lab Technician
Clinical Research Associate
Clinical or Research Technician
Computer Data Analyst
Manufacturing or Production Technician
Accountant
Sales
Technical Writer
Biochemist
SUGGESTED MINORS
Chemistry 21 Hours Minimum
Geology 20 Hours Minimum
Microbiology 20 Hours Minimum
SCHOLARSHIP OPPORTUNITIES
FINANCIAL AID
USEFUL LINKS
We aim to foster your academic, personal, and professional goals. If you have any questions or need assistance, please contact the program coordinator.
One or more documents on this site are in PDF format. In order to view and print these document(s), you will need the Adobe Acrobat Reader software. It can be downloaded from the Adobe website.