English
Bachelor of Arts
Undergraduate (Bachelors)
On Campus (In-Person)
Downtown Location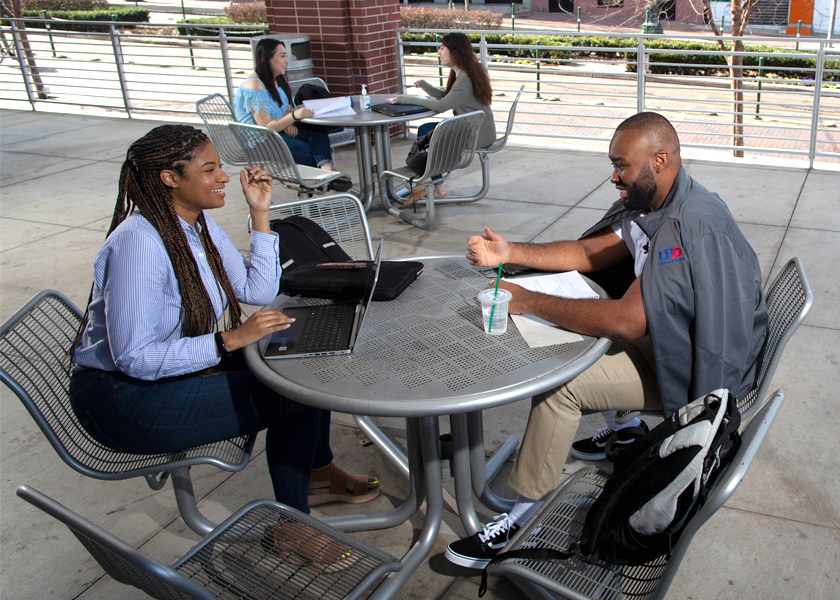 Bachelor of Arts in English
The Bachelor of Arts in English offers students courses in US, British, and World literatures from the medieval, early modern, colonial, early-American, Victorian, modern, and contemporary periods. Our award-winning faculty are scholar-teachers who offer expertise in subfields such as cultural studies, critical theory, rhetoric, narrative and poetics, and studies in race, class, gender, and sexualities. Students with a UHD English degree graduate with a portfolio of original research and writing on a diversity of authors, genres, and literary movements from around the world.
The classic BA in English primarily focuses on the study of literature and culture, including the analysis and interpretation of novels, short stories, poetry, plays, film, and nonfictional writing. Through discussion and their own writing and research, students develop answers to questions about representation and creative expression in different historical, geographical, and social contexts.
Concentrations:
Creative Writing immerses students in the art and craft of poetry, fiction, creative non-fiction, literary translation in workshops, and offers internship opportunities with the literary magazine, The Bayou Review.
Film Studies brings students into a deeper understanding of how we look at narrative, documentary, and avant-garde cinema from around the world as it has changed from the late-19th century to the present.
English Education prepares students to become teachers. Students who complete this concentration will earn Texas state certification to teach at the secondary level.
Completion of the BA in English prepares graduates for any career, but particularly in professions that prioritize writing, research, editing, creative thinking, organization, communication, and a commitment to literacy, arts and culture, and the public good. Recent graduates currently work in corporate, educational, and non-profit sectors and participate in a number of Houston-area creative and literary arts communities.
B.A. English graduates interested in teaching and in obtaining the Alternative Certification Program visit UHD's Department of Urban Education. Or contact Dr. Diane Miller, Graduate Program Director, at PetersonD@uhd.edu or 713-237-5417.
English Minors
Careers
Grant Writer
Research and write proposals to help fund health care facilities, social support and wellness services, educational institutions, cultural organizations, arts non-profits, and many other spaces in need of financial support to operate and run programs and facilities. Work with a team of other writers, but also independently, and often in collaboration with program managers and leadership positions.

Editor

Employ your proofreading and critical acumen by discerning how to best edit long- and short-form written work for mainstream or alternative publications (including print or online magazines and newspapers) and presses, but also in the medical or scientific fields, in the governmental sector at the city and county level, or for small businesses or large corporations.

Human Resources, Human Relations

Put your love of stories and characters -- as well as your reading, critical thinking, and organizational skills -- to work by acquiring a job in which you administer, hire, train, and share information with employees and potential employees of any nonprofit organization, small business, or corporate entity.

Social and Community Services

This sector also appeals to those who know the importance of telling and preserving stories, but with a deep interest in representation and social justice. The field is broad and includes positions in project management, administration, coordination, educational outreach, event planning, marketing or public relations, fundraising, lobbying, nonprofit management, and nonprofit liaison.

Librarian

If you enjoy research and organized systems of thought, consider a Master's in Library Science upon graduation. You might see yourself in a career in a school or public library, helping students or patrons with research or with finding books, but there are other kinds of careers available with those who hold the degree, including archivist, data or workflow analyst, curator, IT specialist, program management, and many other opportunities in museums, galleries, corporations, community centers, universities and colleges, and more.

Elementary, Middle-School, Junior-High, High School Teacher

Some of us are devoted to teaching the next generation some of the most important skills for the 21st century, including reading, critical thinking, a love for words and languages, story-telling, listening, asking questions, personal reflection, analysis, interpretation, argument, and research. If you'd like to be an English teacher, this is the path for you.

Social Media Management and Content Creator

Use your writing and creative skills to create content for companies. Help them manage their social media accounts