Student Success Story: Jennifer Camacho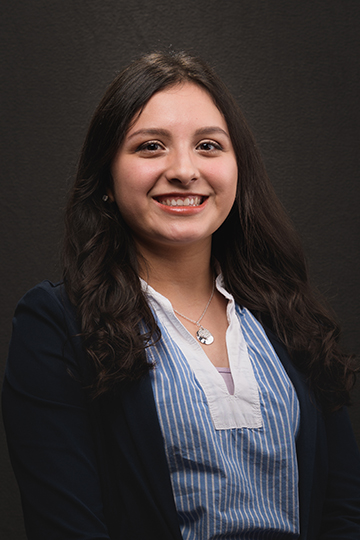 Jennifer Camacho was a junior in high school when she first learned about the University of Houston -Downtown. She received an email about an open house for the university and from there it was history. "I always loved downtown and I noticed that UHD was right next to downtown so I attended an open house and fell in love with this school and the people – they were so welcoming," Camacho said.
As a first generation college student, Camacho knew right away that UHD was her university home. It just all lined up. "I preferred the smaller class sizes that worked well with my schedule," Camacho said. "It offered more flexibility with face-to-face and online class options and it was cheaper."
Camacho aspires to be a CFO in the medical industry so she elected to join Marilyn Davies College of Business and major in finance. "It's really relaxing when I walk into class because I know everyone else is going through the same struggles as I am…as far as working and school priorities," Camacho said. "Everyone is very friendly so I am able to talk to them easily."
Camacho said she feels that the professors at Davies College of Business are key to helping prepare her for CFO status one day. "The professors are skilled enough to give real world examples," Camacho said. "The professors really get to know you by name and address your troubles. They'll help you one-on-one and explain a problem you don't understand multiple ways."
It comes as no surprise that Camacho has taken advantage of every opportunity available to her. She's active on campus and is the Vice President of the Financial Management Association (FMA) student organization with aspirations to become FMA President.
#MyMDCOB means I have my future career path set. – Jenny Camacho
Q & A with Jenny:
We asked: How do you prioritize your work-school-personal life?
Jenny: "I really have to plan out my day-to-day activities. On the first day I get the syllabus and I write down all those dates in my planner so I know what I have to get accomplished day-after-day."
We asked: What was it about UHD Marilyn Davies College of Business that really stood out to you?
Jenny: "What I really liked about UHD that stood out to me was the class sizes. I get distracted very easily, so I really liked that the classes were small and I got to know the professors one-on-one. I also took advantage of all the tutoring programs they offered us."