Frequently Asked Questions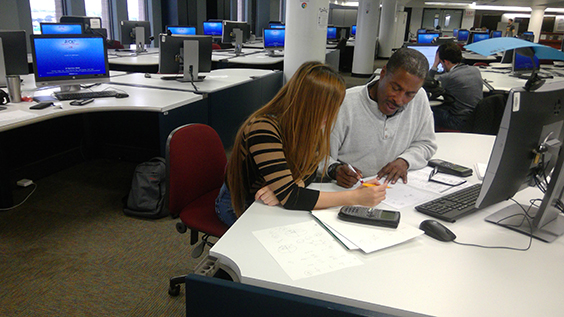 Where is the Center for Math and Statistics Support located?
UHD Campus, One Main Building, Room N925
Do I need to bring a student ID when I visit the Center?
Yes, please bring your UHD ID Card to check-in. ID Cards are also required to check out a textbook or calculator. You will need to also know your UHD ID Number.
Do you have graphing calculators and textbooks that I can borrow?
Yes, we have calculators and textbooks you can check out while studying in the center; however they are not allowed to be taken out of the center.
Can you help me study for my exams?
Yes, we can help you one on one or you can bring your friends and we can make it a group session.
Can I schedule an appointment to reserve a tutoring session?
Yes, students may schedule one tutoring session per day and three sessions per week. Call us at 713-221-8669 to schedule or login to UHD Navigate.
Tutors may assist with one assignment per tutoring appointment.
For assistance with two assignments, please schedule two separate appointments.
Tutors may assist with homework but not exams or quizzes.
If your instructor prefers that we not be a resource for an assignment, then we advise that you consult with your instructor.
What do I do if I am running late for my appointment or need to cancel?
If you are running late, please call us at 713-221-8669 and we will reserve the remaining time without canceling the appointment. If you no-show for three or more appointments in one semester, you will be limited to walk-in tutoring until the semester's end.
Tutors cannot assist current classmates.
Students are welcome to choose any other tutor on our staff.
Student tutoring records are confidential
If your instructor requires proof that you participated in tutoring, you may share an email copy of the tutoring session confirmation sent to your GatorMail.
Exception may be required by university policy, such as Title IX concerns.
How can I stay updated on Math Center student events?
Follow us on all Social Media outlets.