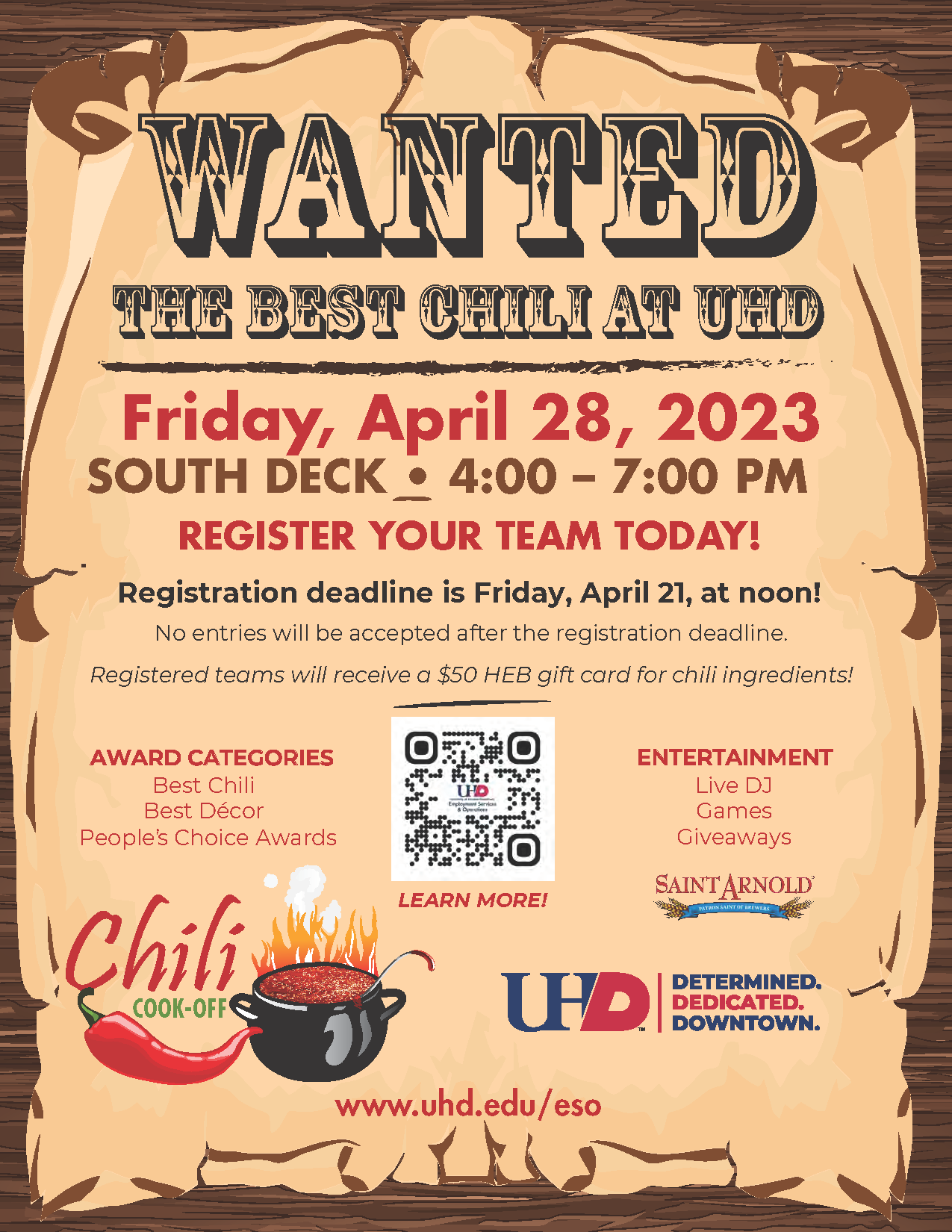 Friday, April 28, 2023, 4:00–7:00 p.m., OMB South Deck
Event Details
The annual UHD Chili Cook-Off is a family-friendly event open to the entire UHD community. This year's event will feature plenty of chili, delicious desserts, a live DJ, jumbo games, giveaways, face painting, line dancing, an amazing skyline view, and more!
As event attendees enjoy all of the attractions and vote for "Best Décor" and "People's Choice Chili", a panel of guest judges will award one chili-cooking team the coveted title of "Best Chili".
Complimentary beer for those over 21 years of age will be provided by Saint Arnold Brewing Company beginning at 4:00p.m. with a limit of three beers per guest.
Tickets
Tasting tickets are available online for guests who would like to attend the UHD Chili Cook-Off. Complimentary tickets are available for UHD employees until 5:00p.m. on Thursday, April 27. Complimentary tickets include a chili tasting kit, a soft drink, and a dessert.
Forming a Chili-Cooking Team
While attending the UHD Chili Cook-Off is a delicious way to connect with your fellow Gators, forming a chili-cooking team is an exciting opportunity to demonstrate your chili-cooking skills and to engage in some friendly competition! Any interested UHD community members are encouraged to form a chili-cooking team.
Important notes before you register
Chili-cooking teams must have a minimum of five members. Teams may include more than five members, but the majority of team members must be UHD students, faculty, staff, alumni, or affiliated partners of the University.
UHD Food Safety Protocols have been updated and require each team to have at least 1 member to hold a Food Handler Certificate. Nominal fees are associated with obtaining these training certificates, which are paid directly to the training provider (not UHD) and are at the expense of the applicant/organization.
Potential courses:
Registered teams will receive a $50 H-E-B gift card for chili ingredients. All additional costs are the responsibility of the cooking team.
All chili-cooking team members must agree to abide by the event guidelines, which can be found in the registration packet.
HR has reduced this year's registration fee from $25 to $15 since all teams must now contain at least one member that has a valid Texas food handler's certificate.
Anyone who is interested in forming a chili-cooking team must:
Submit a completed UHD 2023 Chili Cook-Off Application for their team and pay a non-refundable registration fee of $15 by Friday, April 21, by 12p.m. noon.
Please submit completed registration packets and fees to Gladis Moya in OMB S910.
If you would like to pay your team's registration fee by credit card, please use the Special Events Credit Card Authorization Form. You may email the form to cashiers@uhd.edu or fax it to (713)223-7437.
Designate a team captain to attend a mandatory, in-person team meeting on Tuesday, April 25, from 2:30-4:00p.m.
Obtain a valid food handler's certificate no later than the beginning of cooking on the day of the 2023 UHD Chili Cook-Off (more details will be available in the registration packet on Tuesday, April 4)
An optional interest meeting was held on Tuesday, April 11, to share more information about forming a chili-cooking team.
Chili-Cooking Team Guidelines
The Chili Cookoff set-up will start at 8:30a.m. on April 28.
Teams will be allowed to bring BEER only; NO liquor.
Those choosing to consume alcohol must obtain a wristband from the Chili Cookoff Hospitality Tent.
Beer must be consumed within the South Deck. Individuals cannot walk outside the immediate event grounds with the beer.
The following WILL NOT BE PERMITTED: glass bottles, KEGS, drinking games, binge drinking, or devices intended to accelerate the consumption of alcohol.
Please be respectful to those around your space.
Music that is extremely loud or contains profane, explicit, or inappropriate lyrics will NOT be permitted.
Contest and Judging
One of the most exciting parts of the UHD Chili Cook-Off is the announcement of the three "Best Chili Awards" decided by the official event judges. Each "Best Chili" award comes with a prize, and for the first time in UHD Chili Cook-Off history we've increased the value of all of the "Best Chili" prizes! In addition to increasing the value of our existing prizes we have added a gift card prize to the "People's Choice Chili" award and the "Best Décor" award as well.
Contest categories include:
Best Chili (chosen by official event judges)

1st place: $300 gift card
2nd place: $200 gift card
3rd place: $100 gift card

People's Choice Chili (chosen by event attendees)
Best Décor

$50 gift card (chosen by event attendees)
Guest judges will begin tasting chili at 3:30p.m. to determine "Best Chili". Event attendees may vote on "Best Décor" and "People's Choice Chili" from 4:00-6:00p.m.
UHD Employee Event Guidelines
Since chili-cooking team participation requires members to set up and prepare several hours in advance, staff participating on a team do not have to take vacation leave between 8:30a.m.-5:00p.m. as this is a University-sponsored event.
Participating hourly employees should not punch out at 8:30a.m. Instead, their managers or TRAM administrators will adjust their timesheets to show work until 5:00p.m. If the hourly employee is scheduled to work beyond 5:00p.m., they will need to take vacation leave for the remaining hours.
On April 28, staff may attend the Chili Cookoff beginning at 4:00p.m., provided there is at least one person on duty in each department until 5 p.m. to accept calls, receive visitors, or transact business, as required by state law.
In addition, since this is a University function, alcohol may not be consumed before 5:00p.m. If employees want to drink alcohol before 5:00p.m., they must request accrued paid leave (vacation or compensatory time).
For more information, please contact Gladis Moya.
Best of luck to all teams and we hope to see you at this year's Chili Cook-Off!